A new version of the the Rogue watch design is available now in four colors. See Kisai Rogue SR2 here.
Bright enough to get you noticed but subtle enough to keep you looking cool, Rogue's vivid green LED light guide presents the time through a circle of connecting LCD blocks.
With its ever present LCD interface, the time can be read at a glance but can be illuminated with three sci-fi green LEDs at the touch of a button, bringing the display to life like a glowing radar screen, a function that is especially effective at night.
Like most watch designs from Tokyoflash Japan, you'll be able to read it quickly after you've been wearing it for a couple of days.
The slim, curved case design is complemented by a solid stainless steel strap which can be adjusted easily to fit your wrist.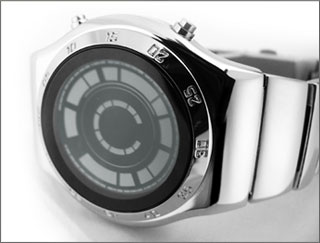 Once mastered, navigating the time is simple, but creates a sense of mystique to the uninformed. The outer ring of small dots represents minutes, every fifth dot being slightly smaller to distinguish five minute groups. The ring of large blocks represents rough minutes, the position of the gap indicating approximate minutes. The inner ring of blocks represents hours, the position of the gap in the ring showing the current hour as on a clock face.
Now only available with a polished IP black finish, Rogue is a modern watch design with futuristic style. For detailed product information a pdf instruction manual is available to download on the right.
Displays the time
Alarm mode
LCD "always on" display
LED light for illumination
Maximum wrist size: 210 mm (approx.)
Case Dimensions: 38 mm x 42 mm x 10 mm
Weight: 160 grams
Water resistance: 3ATM
Japanese and English instructions
One year warranty
Download PDF manual