How drunk are you? Kisai Intoxicated features a built-in breathalyzer to tell you! The time and date are shown by bold digits in negative space - easy to read at a glance however intoxicated you are!
Kisai Intoxicated is now available to buy in a new, light & comfortable case & strap. Click here to see Kisai Intoxicated Silicone.
Are You Sober, Inebriated or Blind Drunk?
To test your blood alcohol content (BAC), open the sensor cap and press the alcohol button to start the test. Once the sensor has warmed up, blow for 5 seconds and wait for the watch to give an on screen reading.
The display on the right of the screen shows 10 different levels of blood alcohol content. A green display showing 0.00‰ means you're sober. A yellow display showing between 0.41 and 0.60‰ means you're buzzing. A red display showing 0.61‰ or above means you're drunk!
It's easy and fun to use - find out more by checking the breathalyzer level diagrams below or downloading the PDF manual.
Test Your Reactions with the Sobriety Game
Intoxicated also has a sobriety game built in. When activated, a line on the screen moves from left to right. Hit the button and stop the line dead centre to win, either side and you're less than sober! Check out the video below to see the game being played.
A Watch with Time, Date, Alarm & LED Backlighting
As well as an integrated breathalyzer, the watch has date, shown in the same way as the time and also an alarm mode.
The LED light guide has three colors; green, yellow and red. These automatically light up during breathalyzer tests to indicate how boozed up you are. You can also activate the green backlight at anytime to read the time easily at night.
A Tough, Stainless Steel Watch Design
Kisai Intoxicated is a stainless steel watch and has an adjustable strap that tapers from the case. The watch uses a rechargeable battery which takes 3 hours to charge. Based on average use of the breathalyzer, the battery should last for one month on one charge and has a lifetime of over 300 charges.
To recharge just connect the watch to your computer with the USB charging cable provided.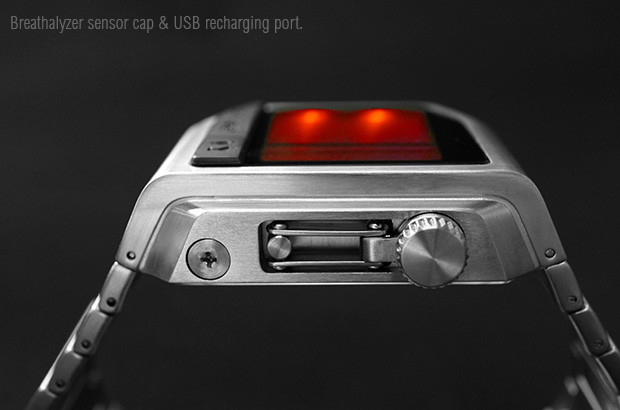 Please Note: This watch is designed for entertainment only. The retailer does not warrant that the results obtained from this breathalyzer will be completely accurate or reliable and accepts no liability for consequences arising from its use. Please remember, do not drink and drive under any circumstance.
Each part of Kisai Intoxicated has been individually designed and manufactured, including the case, strap and uniquely programmed display. Like all watches from Tokyoflash Japan it is a limited edition design. This means it is guaranteed to be an original watch that not many other people own.
Displays the time and date
Integrated Breathalyzer
Alarm mode
Sobriety game mode
LCD "always on" display
LED Light Guide
Stainless steel case & clasp
Adjustable stainless steel strap
USB rechargeable: unscrew & connect to your computer
USB cable and screw driver included
Minimum wrist size: 100 mm (approx.)
Maximum wrist size: 200 mm (approx.)
Case Dimensions: 42 mm x 54 mm x 15 mm
Weight: 160 grams
Water resistance: 3ATM
Battery: PL352323 rechargeable battery
English instructions
One year warranty
Download PDF manual
Kisai Intoxicated originated as a concept on the Tokyoflash Design Studio Blog in June 2011. It was voted as one of the most popular concepts by fans on the blog and was developed based on feedback provided. Kisai Intoxicated is now reality. Find out more about the original concept on the Tokyoflash Design Studio BLOG.