Minimal design and a simple, intuitive display make Kisai On Air one of the most attractive watch designs available from Tokyoflash Japan. Featuring a colored LCD display with touch screen technology, time, date and alarm, Kisai On Air is the fourth concept design submitted by a fan to become reality.
A Minimal Watch Design With An 'Always On' Colored LCD Display
The limited edition Kisai On Air watch is available in four display colors each with LED backlighting. The LCD display is always on so the time can be read at a glance and the LED backlight function means it will light up on demand, a useful function for night time.
A Functional Watch Design with Touch Screen Technology
A multi-functional watch design, Kisai On Air features touch screen technology and displays the time and date. It also has an alarm mode and animation.
The touch screen display has four hot-zones (top, bottom, left, right) which you can simply touch with your finger to change mode; time, date, alarm, light up.
Holding your finger in place for a few seconds allows you to customise; hold your finger over the alarm zone to set the alarm, hold it over the time zone to set the time. It's intuitive, simple and fun to operate.
After 15 seconds the screen will lock to prevent accidental input, however the LED light up function can always be operated. To unlock the display, simply swipe your finger across the screen from left to right. Please see the video at the bottom of the page to see this in action.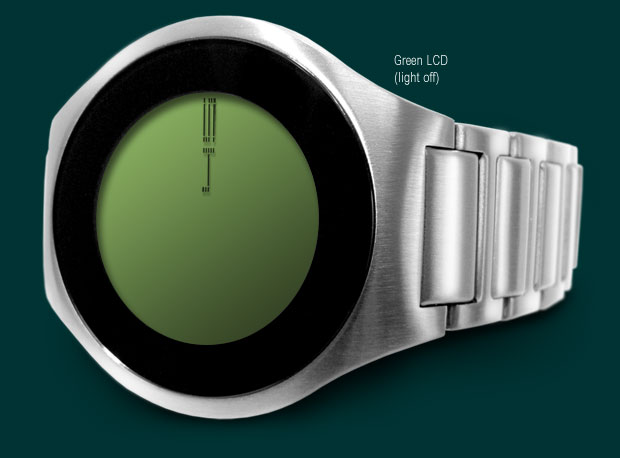 A Simple, Attractive Way To View Time
On Air's time display is minimal and intuitive. The digital numbers on the screen are the hour hand and point to the current hour in the same was as the hand on a clock. The digits on the screen are the current minutes. Reading the time couldn't be easier.
The date can be read in exactly the same way with the hand pointing to the month and the digital numbers showing the date.
On Air also has an animation feature that can be turned on or off. When activated, the animation will appear once every five minutes.
Displays the time
Date mode
Alarm mode
LCD "always on" display
LED backlight for illumination
Touch screen technology
Animation feature (can be turned off)
Audio feedback (can be turned off)
Stainless steel case and strap
Clasp: simple fold over clasp with push button
Minimum wrist size: 100mm (approx.)
Maximum wrist size: 210mm (approx.)
Case dimensions: 44mm x 51mm x 12.6mm
Weight: 120 grams
Battery CR2025 replaceable watch battery
English instructions
One year warranty
Download PDF manual
A Brushed Stainless Steel Watch with A Custom Designed Case
On Air is made of stainless steel with a high quality brushed finish and has a mineral crystal lens. Available in silver or black, the custom made case is curved so the watch will fit your wrist perfectly.
Like all watches from Tokyoflash Japan, Kisai On Air is a limited edition design which means it is guaranteed to be an original watch that not many other people own.
In February 2010, Tokyoflash opened its Design Studio Blog to showcase its concept designs and request ideas for new watch designs from fans. The idea for Kisai On Air was submitted by Iskender Asanaliev & Adilet Asanaliev and was voted as one of the most popular designs by fans. This is the fourth concept submitted by a fan to become reality.
Find out more about the original concept on the Tokyoflash Design Studio BLOG.
Blog readers & watch designers Iskender Asanaliev & Adilet Asanaliev, from Kyrgyzstan say:
When my brother and I designed this watch we didn't expect to receive so much attention from people all over the world. We only wanted to design a timepiece that was different to other classical watches. We started with a simple question "how can we show the time in different way?" because there are millions of watches which are not original. After sending our concept to some design related blogs we started to receive many e-mails from people who wanted to buy it. We were blown away and started to look for manufacturers, but unfortunately it was hard to find one because most of them were producing classical watches and this one was just too unusual for most companies.
Thanks to Steve (a fan of the watch) who suggested we send the design to the Tokyoflash Design Challenge. Now it's awesome to see the idea become reality! We were shocked when we learned that our watch was going to be produced!
Thank you very much Tokyoflash for your existence and for such an opportunity! Thanks to all people who supported us and thanks who everyone who likes the watch and buys it!