Reminiscent of some kind of satellite tracking system, the LED's in Geomesh light up in various patterns that cryptically tell the time. It's a very unique display & uses the horizontal and vertical lights to indicate hours & minutes.
Hours are indicated by counting the vertical lights & minutes by the horizontal lights. The minute lights can indicate 5 mins each light or 1 minute depending on the configuration - sounds complicated, but not really that difficult.
For example, take a look at one of the Multi-color LED watch photo's. The Green (vertical) lights are hours. The Yellow (horizontal) lights are 5 mins each & the Red 1 minute each. The same applies to the other models, just the color is different.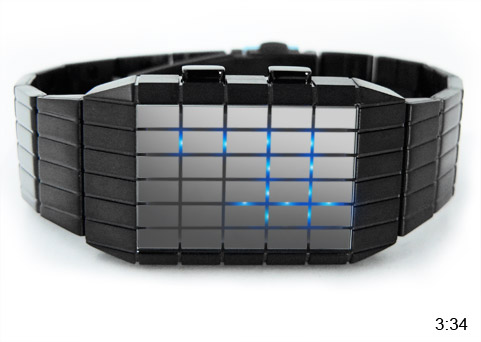 Available in a brushed Gunmetal finish with either White, Blue or Multi-color LED's.
The face is a mirrored grid with 27 LED's.
Water Resistant
1 Year Warranty
Time only
Stainless Steel strap & caseback
Mirrored face
English & Japanese Instructions