A unique vortex shaped lens, a colorful spiralling display and bright EL backlighting combine to create Kisai Uzumaki.
The sixth concept from a fan to become reality, Kisai Uzumaki features a brand new custom designed case and strap and shows the time like a conventional analog watch.
A Limited Edition Analog Watch Design with a Spiralling Display
Uzumaki comes from the Japanese word for whirlpool. The colored swirls indicate the time in an analog format so that the time can be read easily at a glance; hours on the outside, minutes on the inside. The hand indicates seconds for precise timing.
A Cool Watch made of Stainless Steel with Colored EL Backlighting
Made entirely of stainless steel and available in black or silver with a blue or green display, the attention to detail in Uzumaki's construction is evident in each part of the watch. The custom curves and brushed surfaces on the case enhance the vortex theme and the EL backlight, which can be initiated by pressing the crown, illuminates the spirals for a short time creating a night-time glow.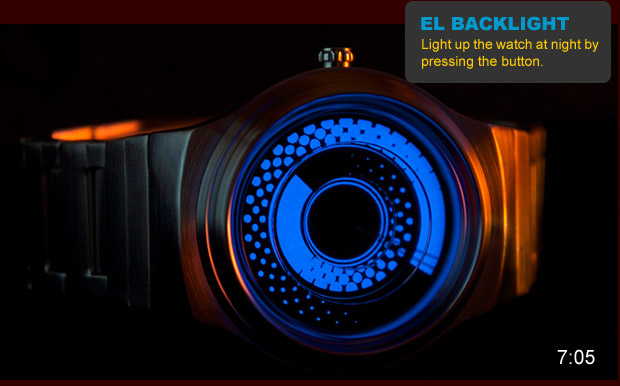 One of Uzumaki's most attractive features is its custom made acrylic lens, designed with concentric circles that descend from the edge of the case into the centre of the watch to create the appearance of a whirlpool. The stainless steel ring that surrounds the lens appears to float above.
Kisai Uzumaki has an adjustable strap making it suitable for small and large wrists and uses standard SR626SW watch batteries which will last at least 12 months and can easily be replaced. The time can be set just like a regular watch by turning the crown.
Like all watches from Tokyoflash Japan, Kisai Uzumaki is a limited edition design which means that it is guaranteed to be an original wrist watch that not many other people own.
Displays the time
Unisex design for small & large wrists
Conventional analog display
Electroluminescent (EL) backlight (for night time only)
Stainless steel case & clasp
Adjustable stainless steel strap
Minimum wrist size: 100 mm (approx.)
Maximum wrist size: 220 mm (approx.)
Case Dimensions: 36 mm x 44 mm x 14 mm
Weight: 140 grams
Water resistance: 3ATM
Batteries: 3 SR626SW standard watch batteries
English instructions
One year warranty
Download PDF manual
In February 2010, Tokyoflash Japan opened its Design Studio Blog to showcase concept designs and request ideas for new watch designs from fans. The idea for Kisai Uzumaki was submitted by Firdaus Rohman from Malaysia and was voted as one of the most popular designs by fans. This is the sixth concept submitted by a fan to become reality.
Find out more about the original concept on the Tokyoflash Design Studio Blog.
Blog reader & watch designer Firdaus Rohman says:
This is for real! Tokyoflash Japan has brought my watch design to life! I remember the moment I wrote "unleash your inner circle" for the design description a year ago - so inspiring. Twelve-months was a long wait indeed, but it feels like yesterday now.
I learnt that the development of this watch was extremely challenging. The final product had to be adjusted to meet technical requirements but a million thanks to the Team at Tokyoflash who put in so much effort to technically harmonize the watch to match as closely as possible to the original design. The result is impressive!
To the Team at Tokyoflash, people who commented and voted, websites and bloggers who featured my design, those who buy and like, everyone, I humbly thank you all for everything. Kisai Uzumaki is now a dream come true.