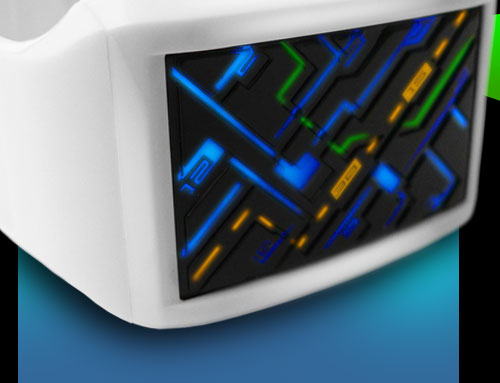 Displays the time
Plastic case & PU strap
USB rechargeable: connect to your computer with cable provided
LED animation option (can be turned off)
Clasp: simple stainless steel belt style buckle
Minimum wrist size: 100 mm (approx.)
Maximum wrist size: 200 mm (approx.)
Case dimensions: 34 mm x 46 mm x 12 mm
Weight: 40 grams
Battery: LIR2032 rechargeable & replaceable watch battery
Japanese and English instructions
One year warranty
Download PDF manual
To ensure that the lights never go down while you're on the move, Transit is USB rechargeable. Just connect to your computer via USB. One full charge will take 3.5 hours and each charge should last 1 month. There are 300 charges in one battery and the battery is replaceable.
Racing across the city at high speed, the sky is dark and the pulsating neon lights leave a luminous trail in their wake. A kaleidoscopic composition of electro inspiration. Will you make it to midnight?
Cutting edge digital tubes weave across Transit's display beneath a curved, smoked black lens that incorporates subtle grooves adding a third dimension. Choose either black or white, finished in gloss with matte detail, both of which offer an original vibe and have been carefully designed to be a perfect fit for most wrist sizes.
Simple to read at a glance, a single touch of the upper button initiates Transit's neon display. Hours 1-12 are the shown in blue, in the same position as numbers on a clock. Five minute intervals are shown along the diagonal orange line from the bottom to the top and single minutes 1-4 are shown by the green line. After touching the button, lights showing the current time will flash for several seconds to direct you.
For more information, take a look at the diagram and video below.
A user selectable, futuristic animation is programmed into Transit for night time. Every fifteen minutes between 18:00 and 24:00, the orange and green LEDs illuminate and move north across the display before fading out.