The innovative Kisai Spider watch uses Transparent LCD to create the illusion that time is floating on your wrist. Four numbers, arranged from large to small, display the digital time in an original and intuitive way.
A Watch Design Inspired by a Spider's Web
One of Kisai Spider's most attractive features is its transparent hexagonal display. Inspired by the concentric rings of a spider's web, the LCD is slightly smoked to make the time easily visible and comes in black, blue, green or red. Recessed between two mineral crystal lenses, you can see right through the case.
Housed in a stainless steel case, Kisai Spider comes in silver or black with finely brushed finish and polished detail.
LED Night Lighting and Custom Animation
Two white LED lights within Kisai Spider's case can be activated at the touch of a button and illuminate the display so you can read the time in the dark. Kisai Spider also has a custom programmed animation which imitates a spider's web being spun - this appears every 15 minutes and can be turned on or off in the settings.
Watch the video below to see the LED light & animations in effect.
Reading The Time Will Become Second Nature
Kisai Spider is a digital watch in a new format. Four hexagonal rings present the time in four digits (hours and minutes) from large to small, from the outside to the inside. At first glance the display looks like a cryptic pattern, but you'll soon learn how to read the time really fast.
You can choose to have time shown in 12 or 24 hour mode. Push the button and the display will change to date mode, which shows the month and date from the outside to the inside.
See some examples of how to read the time below: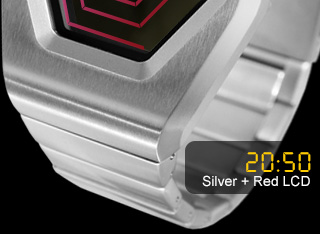 Kisai Spider has a fully adjustable strap making it suitable for small and large wrists and uses two standard SR626SW watch batteries which will last at least 10 months and can easily be replaced.
Displays the time and date
12/24 hour mode
Designed for small & large wrists
LCD "always on" display
White LED backlighting (for night time only)
Stainless steel case, & clasp
Adjustable stainless steel strap
Minimum wrist size: 100 mm (approx.)
Maximum wrist size: 210 mm (approx.)
Case Dimensions: 40 mm x 51 mm x 10 mm
Weight: 140 grams
Water resistance: 3ATM
Battery: SR262SW standard replaceable watch battery
English instructions
One year warranty
Download PDF manual
Each part of Kisai Spider has been individually designed and manufactured, including the case, strap and uniquely programmed display. Like all watches from Tokyoflash Japan it is a limited edition design which means that it is guaranteed to be an original watch that not many other people own.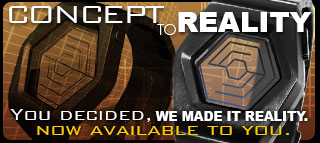 Kisai Spider originated as a concept on the Tokyoflash Design Studio Blog in February 2012. It was voted as one of the most popular concepts by fans on the blog and was developed based on feedback provided. Kisai Spider is now reality. Find out more about the original concept on the Tokyoflash Design Studio BLOG.